DISPATCH RIDERS – A SIMPLISTIC GUIDE TO STARTING A DISPATCH RIDER BUSINESS IN NIGERIA
Dispatch Rider Business: Are you aspiring to venture into a successful E-commerce business? Then this is just the guide for you! Learn how to start up a blossoming Dispatch business. 
The current economic situation in Nigeria is not pleasant. These are not times when a university graduate can hope to get a secured job. Even an entrepreneur starting up a new business in Nigeria faces hardship and finds it difficult to maintain a stable income yield.
There is a high rate of poverty and inequality in Nigeria, which is not due to lack of resources, but the ill-use, misallocation, and misappropriation of such resources. The rich and the privileged extort from the poor and less privileged without pity, hence, reducing the chances for youth to be financially sufficient.
The exposure of verified e-commerce businesses elevates the situation for diligent youths. With secured internet access, one can make lots of money despite the presiding financial discrimination and inequality currently existing in Nigeria. 
What Is Dispatch Business All About?
Although less verified, online businesses tend to have a fair share of risks and uncertainties. One of the more promising and guaranteed forms of E-commerce in Nigeria is delivery businesses. 
Due to the speedy advancement of technology and the rampancy of mobile phone users in Nigeria, Nigerians are compelled to shift their demand for goods and services from physical contact to the online world.
People will also need their goods and services to be delivered at their doorpost. 
Dispatchers provide such services. In order to suit their conveniences, Nigerians are ready to pay in bulk. Many even find online shopping as a hubby, and mobile phones ensure commitment as well as guaranteed pay. This blossomed much, especially during the covid-19 lockdown period, where some people completely depended on online delivery for every single provision.
SEE POST>> How To Start a Provision Store In Nigeria
This is not enough to emphasize the present and futuristic lucrativeness of Delivery Services. Delivery Business goes by many names, such as logistics business, transportation service, dispatch rider business, bike delivery service, etc. All these have to do with the procurement of goods and services from a distant supplier or manufacturer and delivering it to the awaiting consumer in their time of need. This is enabled by a stable distribution network.
What Is A Dispatcher Guide?
A dispatcher guide is a steer that leads you in the right direction for a prosperous delivery business. The online world is a broadened affair. Without a feasible strategy and the right investment from the stages of monetizing your online presence to efficiency in the delivery of goods and services to the consumer's doorstep, the business cannot yield. However, with an appropriate guide, the profit of your delivery business extends to heaps and bounds.
Literally speaking, a dispatcher guide is a business guide. And like every other business guide, it shows us how to successfully start up a business, all the processes involved in the successful running and growth of that business. In this case, we will be discussing the complete guide to a yielding and sustainable delivery business in Nigeria. Without further ado, let's get to it!
Requirements For A Delivery Business In Nigeria
The dispatch business is a feasible and lucrative business. It is therefore necessary that you get an adequate understanding of the requirements for setting up and running a successful dispatch business in Nigeria before you even think of investing in it.
In order to start up a dispatch business in Nigeria, you will need to get a working space with a large enough parking area to park the vehicles/bikes. A metropolitan area is best for this business to enable you to keep track of your customers and reach them in time.
Determine where your delivery boundaries will be, and the amount you intend to charge.  The necessary approval needs to be received from the State Government and permission to use the said location for a dispatch rider business.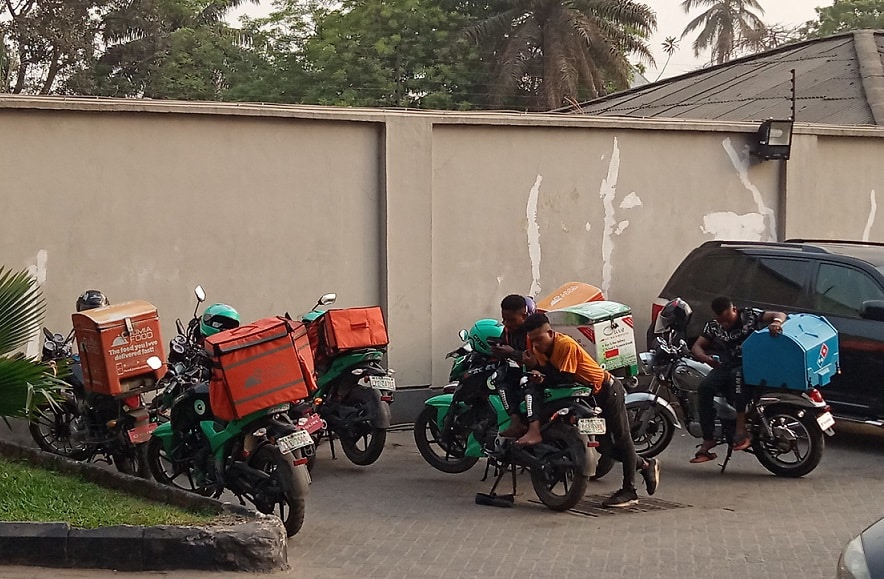 After this, the next protocol is your vehicle inspection by VIO (The Vehicle Inspection Organization). After securing approval from the state government and the VIO, a courier license will then be gotten from NIPOST which is the regulatory body for courier services in Nigeria.
For more relevance, you will need to register your business name with the corporate affairs commission (CAC) which is the regulatory body in charge of registering a new and existing business in Nigeria. Registering a business name should be the first thing you do.
Equipment And Materials For A Delivery Business In Nigeria
Accounting and other software

Stationery

Dispatch box

A Good Business Plan

Capital

Dispatch rider

Bus/Truck/Cargo bikes

Office space

Office computers and telephone
The availability of these pieces of equipment and materials for the start-up and running of delivery businesses in Nigeria cannot be over-emphasized.
Starting Up A Successful Delivery Business
1. Clearly Define How You Intend To Operate The Delivery Business
The first thing to be done when one wants to venture into a dispatch business is to define how you will run the dispatch business. You should decide on whether you want to use cargo bikes or delivery vans or both for your dispatch business and how many would be needed. Also, you must decide if your dispatch would be intra-state or inter-state. All these must have been concluded before you commence.
2. Formulate a Unique Business Plan
After concluding on the mode of operation of your dispatch business, you need to form a business plan. A business plan is a comprehensive document that states the goals and objectives of a business and how these goals and objectives would be achieved. A business plan guides you and shows how you intend to accomplish your goals.
Drafting a business plan shows that you have a clearly defined goal and have plans on how to achieve these goals. It causes others to see what your long-term goals her and buy into it through the strategies you mapped out to achieve those goals. A business with a business plan can easily assess funding from external parties, like government grants, loans, etc.
A typical business plan would contain the following:
An overview of your dispatch business

Executive Summary

General description of the company

SWOT analysis

Market Research

Your Strategy

The Team

A marketing plan

An operational plan

Financial projection

An appendix
3. Register Your Business With CAC
After drafting your business plan, it is important you register your business with the Corporate Affairs Commission (CAC). This will give your business structure and credibility in the eyes of customers. You can either register your business as a business name or as a limited liability company. 
You should also get all the necessary licenses for the dispatch rider business. As a registered business, it is easier to access funds and capital from external sources. You can approach a bank with your business plan and seek a loan.
4. Set Up a Website
Setting up a website makes your business more visible to customers. Your website stands as an intermediary between you and your customers as that is the platform on which you both would mostly interact. On your website, you advertise your business, your customers see it and contact you for an order. Your website should be easy to access by customers and should be updated regularly.
5. Get An Office Space
The dispatch business is both an online and offline business. Most transactions would be done online but some customers would prefer to come over to your office so you need to get an office space and keep the office well branded with your business name and your logo. Also, the office space should be spacious enough to accommodate your cargo bikes and/or delivery vans.
6. Hire Staff
You will need to hire some riders/drivers for your cargo bikes/vans. The drivers should be carefully selected and trained with the company's ideals and culture as they are the face of the brand. They should be polite when making a delivery to customers and should be calm when driving. Other employees need to be employed to attend to customers when they call, and also man the business website.
7. Market Your Dispatch Business
Marketing is an important part of business survival. A business that does not engage in marketing cannot operate into the foreseeable future. Marketing involves carrying out activities that make your business more visible to your target audience. You can market your business through word of mouth, referral, social media advertising, Google advert, etc.
Due to the current situation in Nigeria, most lucrative businesses that offer goods and services are low on funds and are folding up. The emergence of Dispatch businesses has created hope financially for aspiring youths. It maintains a stable income by providing goods and services to all classes of life, the wealthy, the middle-class, and the low-class at their convenience. 
The spontaneous technological advancement in the world today completely makes this business financially approved. However, one can easily run into loss if one does not take care to follow the complete dispatchers' guide to a successful delivery business in Nigeria.
SUGGESTED READS:
Sharing Is Caring!