Hawkit Ng Review: 5 Proven Cheats To Make ₦10,000 Daily Passively
How To Start a Full Business Online With Hawkit ng
Hawkit Ng Review: Hawkit ng is an online marketplace app that's kind of an all-encompassing hub for business owners or probable startups in Nigeria. It is, in an actual sense, made for the Nigerian community, so that Nigerians can promote and grow their businesses.
You probably may not have known that you can build robust commerce online via the Hawkit ng app without being tech-savvy at all, with just a few clicks you are done!
What Is Hawkit Ng?
Hawkit International Limited (RC 1677464) is an internet business organization that was established on the first of June 2020 and integrated on the 22nd of June 2020. We offer a helpful internet shopping where customers can buy food things at costs that are lower than market costs. These food items are conveyed to the shoppers straightforwardly to their homes at no extra expense.
How To Make Money On Hawkit NG
Making money on Hawkit is very easy. And you can do this by taking advantage of the 5 unique features available on the platform.
Hawkit NG Features
There are 5 major features on Hawkit.ng that users can utilize to start or augment their business online, and the following are:
Hawkit Market

Social Tasks

Social Media Portfolio Boosting

Airtime/Data Business

Team Building
From the above-mentioned features, it's obvious that Hawkit users can use all of them to boost their earnings. Therefore, we will be going through vivid explanations of each of the features.
#1 Hawkit Marketplace
This is the best part of the platform. This feature allows users to list their products (whether physical or digital) for buyers to locate them. You don't need to run any ads or do promotions to get customers for your business.
For your information, Hawkit ng has over 50,000 people actively using the app daily. You can list your business from any location in Nigeria. The system is set up in such a way that your product description is well optimized for it to appear as featured products peculiar to your location and the entire country, too.
What I mean is the people that are located in your city or state will view your products, as well as those in other places across the country. A few points to take home when using the marketplace:
You will get contacts from potential customers

Your products will keep showing up on people's feeds until you decide to deactivate them

Your brand will gain exposure to over 50,000 people for free

You would likely see people who will love your product and eventually buys it

You get to meet other skilled people like you and connect with them
#2 Perform Social Tasks & Get Paid
The second feature you can make money on Hawkit is by performing simple social tasks and getting commissions. As good as this may sound, it's a really fair advantage for me because I have been on this platform for some months now.
The earnings however range from N3 to N100 per task carried out successfully, depending on the social media order people make.
SEE POST>> Crazy Money To Be Made In Mether Network, Check It Out!
So, how does this work? You will be given a task notification when you log in to your account, alternatively on your phone or via your registered email. Then you do whatever instructions are attached to the task, when it's done correctly, you will be credited after verification. And the validation process can take from 2 to 4 hours and even beyond in most cases.
#3 Social Media Growing
In a dispensation where the majority of people doing business on social media want to become influencers by amassing a large following, it's pertinent to note that this feature is specially designed to cater to this need.
That means you can grow your social media following in a space of a few days. It's more like running Facebook ads to get likes on your page. I have seen a dude (my social friend) who grew his Instagram followers from 721 to 1007 in 24 hours using Hawkit social media booster.
This feature is designed for the following:
Social media influencers

Affiliate marketers

Digital marketers

Product vendors

Skit makers

Public figures

Music artists

Official pages of ministries

Etc
How Hawkit Social Media Task Works
This is not a free feature, you'll have to fund your account and run this package. And the beautiful thing is that you're buying real followers (humans, not robots as some platforms do).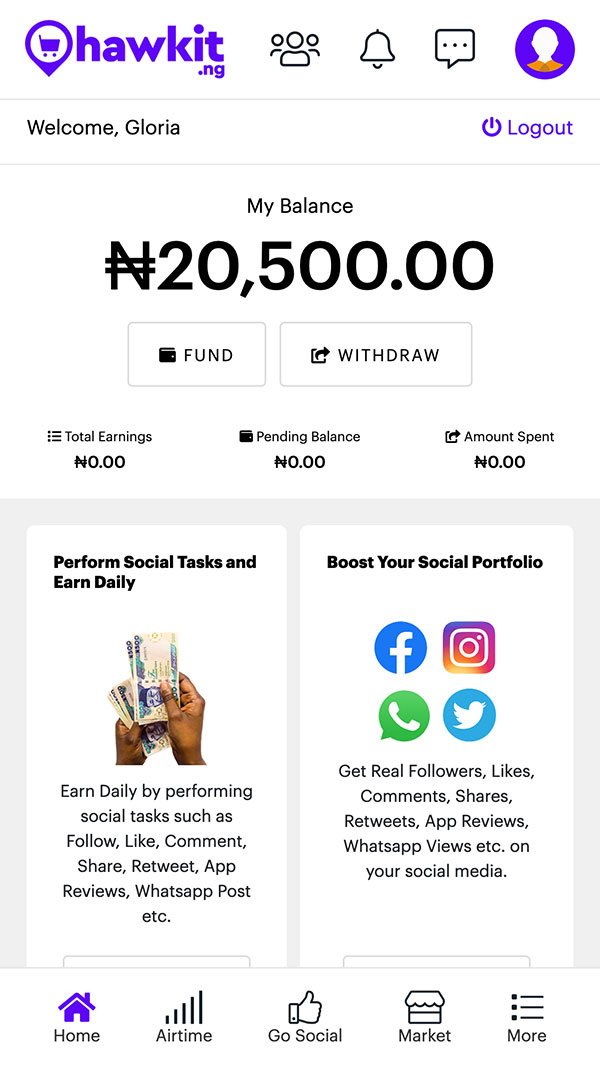 You do this to boost your social media portfolio by buying engagements like followers, comments, likes, shares, retweets, app reviews, WhatsApp views, and so on to grow your social media handle.
Pricing & Earnings
Buy real followers (Instagram, Twitter, and Tiktok) – ₦5 per follow

Buy real post likes (Facebook, Instagram, Twitter, and Tiktok) – ₦5 per like

Buy Facebook page likes/followers (Facebook) – ₦5 per like

Buy YouTube subscribers (YouTube) – ₦50 per subscription

Buy YouTube views, likes, and comments (YouTube) – ₦30 per like and comment

Buy real comments (Facebook, Instagram, Twitter, and Tiktok) – ₦25 per comment

Buy Facebook shares (Facebook) – ₦15 per share

Buy Twitter retweets (Twitter) – ₦15 per retweet

Advertise on WhatsApp status (WhatsApp) – ₦30 per WhatsApp status

Buy Google play app reviews (Google play store) – ₦50 per review

Buy Apple store app reviews (Apple store) – ₦100 per review
#4 Airtime/Data Business (VTU)
Hawkit Ng Airtime/Data Business is another perfect method to make money on the platform like a Virtual Top Up (VTU) agent or reseller. This aspect affords the users the opportunity to pocket extra cash by selling airtime & data.
As such, you can purchase a 1GB data plan for ₦250 and resell it to people for ₦300 to ₦350 as your greed allows you. If you sell for ₦300, that's ₦50 profit per sale, or if you sell it for ₦350, you will gain ₦100 instantly, all up to you to decide.
#5 Building a Team (Referrals)
This is one of my favorites actually, of course, you know every digital and affiliate marketer out there would love to earn some commissions referring others. This feature is integrated in order to help grow the platform and also increase earnings.
2 Ways To Earn From Recruiting:
Referral commission is ₦500 per person that joins via your unique link and activates his account
You will also earn 20% on every Social Boost the person you refer buys. That means if your referral decides to grow his or her social media following, and then purchases a ₦10,000 worth of Social Boost and Engagements; Likes, Comments, Shares, Views, Followers, and so on, you will earn ₦2,000 instantly.
NOTE: You will receive any commission if your referrals only register without activating the account, but only when they successfully activate their accounts.
How To Get Started
First, register HERE
Provide all the details required
Verify your account
Activate your account with ₦1,000 only (which is not a big deal), and you are good to go
You can download the app via the site or directly from the Google Play Store
NOTE ALSO: You cannot grab your referral link to refer others if you have not activated your account. If you are not joining Hawkit Ng for referrals' sake, register because of the Marketplace where you can list your products for thousands of people to see and start an airtime/data selling business.
Wrapping Up
Hawkit Ng is almost 2 years since its launch date on the 22nd of June 2020 according to their "About Me Page" on the official website. What's more? If you can afford to risk ₦1k, then go ahead and get started with launching your business online and making sales!
Finally, everything that there is to know about this platform has been explained in this article, however, if you still find certain facts or aspects disturbing, you can reach out to me on WHATSAPP (Chat Only). What do you think about this earning opportunity? Kindly drop your comments below!
SUGGESTED READS:
Sharing Is Caring!