Promoting Affiliate Links has been one of the most difficult feats to crush in making money from affiliate marketing, especially your first sale ever!
The fact that so many people are cashing out thousands of dollars every single month does not mean everybody is doing the same in affiliate marketing.
Be that as it may, it's really a struggle and always frustrating to exert so much energy only for you to see a $0.0 balance on your affiliate dashboard.
You see, the truth is not every affiliate marketing "guru" out there will want to tell you the truth that making your first sale in Affiliate Marketing is very difficult, irrespective of your strategy.
We have had our own share of personal frustration with affiliate marketing, spending money to run ads on Facebook and Google, getting traffic and clicks, yet still no selling! We have bought courses and attended webinars only to end up more frustrated!
But wait! Is there any way you can actually succeed in Affiliate Marketing and make sales like a pro even from the first day? Yes, it's possible!
Having learned from my mistakes, it's more likely that you'll begin from a standpoint of success because you'll be deploying our strategies!
Moreover, what we are about to reveal to you in this article will throw so many people selling affiliate marketing courses off balance because It's a piece of premium information we are giving to you for FREE! Woah!
That feels quite relieving right? Oh! you thought we were going to charge you in the end? Lol! Well, all you can do to reciprocate the favor is to share this post. Thank you! Without much Ado let's dive in!
Affiliate Marketing
We know you have seen the two words "Affiliate Marketing" appear on this post in several places and paragraphs, and as such you would like to know what it's all about.
Affiliate Marketing is a marketing system where a person promotes a product from a company to a potential buyer, then when the buyer pays for the product or service, the person who promotes it gets or earns a commission.
Each product promoted by an affiliate comes with a percentage. For instance, if you choose to promote a Clickbank product worth $500 and what you are to earn as a percentage is 50% that means for each sale you make you will earn $250 (that's 50% of $500).
Things To Know About Promoting Affiliate Products
Affiliate Products are Products listed on the product marketplace in your dashboard of Affiliate Marketing Programs or platforms. These offers are listed by different vendors from different niches (markets).
Affiliate Products Differ In Value
This means that before you Promote any offer, you have to checkmate its viability; whether the product is result-proven. Know the testimonials of People who have used the product.
And also understand that some products attract more sales than others. So choose the one that's productive and marketable.
Affiliate Products That Have Huge Commissions
This is very important. There are Products that you can earn as high as $300 per sale. Why it is always advised to pick a high-ticket affiliate offer because when you make a sale, it can cover the cost of your ads (amount spent in running Facebook or Google Ads) and other expenses you may have incurred.
Pick Affiliate Products That Are Convertible
Picking Affiliate Offers that may not sell can suck and waste all the efforts you've put into making your affiliate marketing business work.
Monitor what other affiliate marketers are Promoting, and look at the conversation rate and the number of sales recorded on the product page. This will guide you to make a profound decision.
Understand Your Audience
It's very commendable that you know the set of people you are targeting. For instance, you can't target people that want to get pregnant with a weight loss supplement. Make sure your product meets the right audience.
Promote Affiliate Links: What Are Affiliate Links?
Affiliate Links are URLs embedded in an affiliate product that contains a tracking Id in which when traffic is directed at it or through it, it will record on the affiliate marketer's dashboard if any sale is made.
That is to say, every affiliate marketer has a customized link (URL) that carried either their username or some random characters in order for the company to be able to track your progress based on clicks, sales, and commissions.
How To Get Affiliate Links
Before you begin to know how to promote affiliate links, you will have to go through these few steps below;
1 Join An Affiliate Network/Program
For you to get an affiliate link to begin to promote, you need to enroll in any of the many affiliate companies online like Clickbank, Digistore24, Learnoflix, Expertnaire, Warrior Plus, and other good ones.
2 Login To Your Dashboard And Copy Affiliate Link
When you are approved after your application, the next thing to do is to locate where you see "Product Marketplace" (some affiliate networks may not show that), but just search for where you will see products to promote. See the image below to get a glimpse of what I'm trying to say.
3 Search For Your Preferred Product And Copy The Link
When you have located the marketplace, copy your affiliate link and paste where you will be promoting.
4 Track Your Progress On Your Dashboard
When you promote affiliate links, you should expect some metrics recorded on your dashboard when you start getting clicks to the products you are promoting.
7 Most Best Ways To Promote Affiliate Links
1 Landing/Sales Page
A landing page is a separate or standalone web page that a user "arrives" on immediately after clicking an ad, email, or link on a social media platform.
And at the moment they are on your page, they will go through a writeup explaining whatever they see on the page with a very convincing tone, which encourages them to take an action like buying a product or joining a subscription list.
From the above assertion, you can agree with me that the landing page method is very trendy when it comes to Affiliate Marketing.
So, you can utilize this method to promote affiliate links. In making this strategy work for you, you have to be very good at copywriting, have screenshots of proof or videos, and then know how to design an attractive landing page.
If the things I have mentioned are difficult for you, never worry, employ the best freelancers in the world on Fiverr, and feel free to SIGN UP and order experts to work for you.
2 Blog
A blog is the most perfect method or way to promote affiliate links, it's undeniably the most used across the globe by affiliate marketers. over 98% of blogs shown on Google are splashing affiliate links in their blog posts, and as such, we will show a few methods you can utilize on your blog if you are running one.
See Post: 9 Provens To Make Money From Blogging Even Without Displaying AdSense On Your Blog
# Blog Post

Write comprehensive and detailed reviews about the affiliate products you have picked to promote. Remember we said you should choose a niche so that you can focus.
Now, for instance, you are running a Personal Finance blog, all your blog posts must revolve around making money online, loans, insurance, mortgage, credit cards, budgeting, how to grow wealth, affiliate marketing, and anything that has to do with making money, just like Nerd Wallet.
# Opt-ins
Opt-ins are pop-ups that greet you on your arrival on a blog or website. It carries a very compelling write-up that will pull you to input your name and email.
And you will be presented with a "bait" known as "Lead Magnet." A lead magnet is a free gift offered as a giveaway in order to collect users' contact details. Lead magnets are mostly used to create lead sales.
# Sticky Menus
Sticky menus are a great way to promote affiliate links on your blog because it sticks to the menu of your blog (as the name implies).
So anyone who ventures into your blog stands a chance to see it almost immediately, and probably take action or click on it.
This, I would say, is one of my favorite methods of promoting affiliate links on my blog, as it is always very effective. An example of how sticky menus look is below.
However, there are ones that float either on the right corner or the left side of a blog.
3 YouTube Channel
This method has been proven to be 99.9% profitable over the years. Affiliate Marketers have taken advantage of this platform to promote affiliate links across every video description on their channel.
By doing so they get massive clicks which eventually leads to sales.
How To Promote Affiliate Links On YouTube Successfully
# Record a Video
The first thing you would do is record and edit a video about the affiliate product you have chosen to promote.
That will give a detailed explanation of the product's benefits in a very convincing and compelling manner. Remember, your expression in the video is key to making sales; be confident.
# Show Proofs
Amidst the video, show proof of what you have benefited from the affiliate product you are promoting. For instance, if you are to promote affiliate links on Clickbank and Digistore24 (perhaps John Crestani's Affiliate Marketing Training Course), you need to open your dashboard and show your earnings so far.
To make it real, load the screen before your viewers to see that you are pointing them to the right source of making money online.
# Optimize Video Title
The Affiliate product name should reflect in your video title in order to have more engagements. Create a "clickbait" keyword-rich video title for your product review on YouTube.
# Video Description
This is the part where you deploy your copywriting skill or expertise to drive traffic to your affiliate links. An example of what I'm saying is the screenshot below.
Your video description must be explainable in a convincing tone. Then attach your affiliate links where necessary.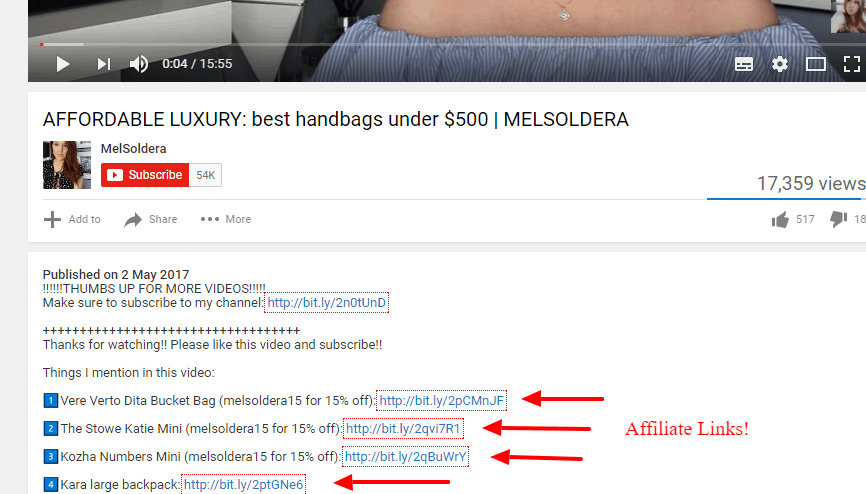 # Call Order
This is very important for you to create awareness in order to promote affiliate links in the video metadata description, by telling your subscribers and viewers that "there's a link in the video description below, kindly click on it to see the awesome offer we have for you."
Make sure you repeat this at intervals in the video. If your video is 10 minutes long, inform them every 3 minutes in order to keep them informed.
# Add Affiliate Product Name To Tags
Make sure you optimize your tags effectively by adding the affiliate product name to them. If you are Promoting John Crestani's Affiliate Marketing Training Course on Clickbank, add "John Crestani" and "Clickbank" in the tags.
Also, at the top of your metadata description of the video, add something like this; #johncrestani and #clickbank.
4 Email Marketing/List
Another sure way to promote affiliate links is via email marketing. Every great affiliate marketer out there understands how powerful and profitable this method is.
This is done by collecting emails from users through blogs or landing pages. When users land on your space, they will be faced with a pop-up that tells them to fill in their first names and emails to gain access to whatever offer you have for them.
SEE POST>> 7 Best Free Blogging Platforms For Writers To Make Money
When they enter their details, the contacts will be stored or saved in the email marketing software you are operating with.
We will recommend GetResponse and Systeme.io.
Both software gives 30 days of free trials. The purpose of this email marketing software is to automate email sending and auto-responding so that you won't need to keep monitoring and triggering email sending manually.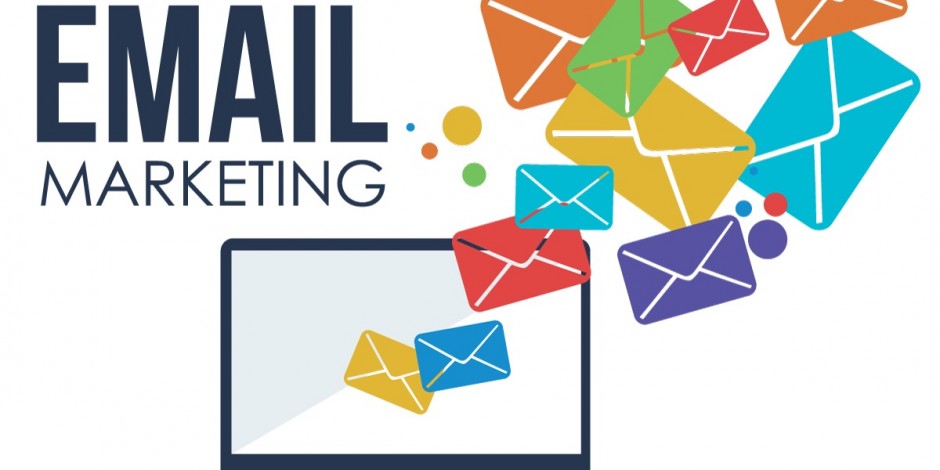 Moreover, the beautiful thing about email marketing is that you can create campaigns (follow-up emails) that will be delivered sequentially with your affiliate links embedded in the campaigns.
5 Social Media
Social media is another big space to take advantage of in order to promote affiliate links. One thing about social media is you promote these links for free without paying a dime.
# Facebook
Facebook has over 2 billion users worldwide, and it's a perfect platform to get people to engage in your content.
However, if Facebook notices you are spamming affiliate links all over, your account might be disabled; so trade with caution.
What you need to do to get started is turn your Facebook profile into a business page and let your friends and followers know what you do.
Furthermore, create a great post about your product, and at the end, embed your affiliate link and call for action.
You can as well search for groups similar to what you are promoting, join and share your links. Another way is for you to update your Facebook story frequently.
# Instagram
Instagram is one platform full of magic! Though owned and controlled by Facebook Inc, it's kind of preferable to promote affiliate links.
There are a few things to do to make your affiliate marketing business worth it on Instagram;
Build a large following; the more followers you have on Instagram, the more likely you are going to make sales.
Set up your profile to represent what you do. You cannot be in the make-money-online niche and you are busy updating political news, that's not proper, you are misleading your followers!
Post frequently about your niche; write a great post about making money online, and in the end, insert your affiliate link and ask them to click.
Record a minute or two videos and post from time to time. And also upload images of what you do as well as your proof. Note, people will not follow those without results.
Upload pictures of your luxurious lifestyle; vacations, parties, bundles of money on the table (just as John Crestani does in his videos on YouTube), wearing expensive kinds of stuff, leaning on a rolls Royce, sipping a glass of good wine, etc. But you must not have all these before you can swag up, you know!
# Twitter
Twitter is also recommended to promote affiliate links in as many as you have followers. The beautiful thing about Twitter is the hashtag formula for optimizing posts on the platform.
For every affiliate product you wish to promote on Twitter, don't forget to add hashtags @ mentions. This strategy can get you more engagements in your affiliate marketing business.
# Pinterest
Pinterest is one of the greatest means of driving traffic to your affiliate link. But you need to know how to optimize boards and pins in order to rank.
In the same way, a keyword is a necessity in Google ranking, so it is in Pinterest. If you are creating a pin on Affiliate Marketing Masterclass (course), it has to be according to the screenshot below.
Be that as it may, the best place to design a pin is Canva.com, it is absolutely free! How to create a pin on Pinterest is very simple, see the image below and the explanations that follow;
Add Your Title: This is where you generate a title that is clickable when seen on Pinterest. Here you insert the keyword of the product you are promoting.
Tell Everyone What Your Pin Is About: It's the main body of your pin; this is the part you exert all your copywriting skills to drive traffic by crafting a compelling description. Make it short (at most 300 words) and wooing. Insert keywords at intervals and the benefits of using the course you are promoting.
Add Alt Text: This means you should explain what people would see in your pin (max 500 characters).
Add a Destination Link: This is your destination URL (the link to your blog, website, or landing page). It's the space you insert your blog post link so that when people click on your pin, it redirects them to the affiliate product review page.
6 Messaging Apps
These apps are hidden strategies a lot of affiliate marketers and bloggers are really taking advantage of now. Messaging apps were only utilized for chatting and connecting with families, friends, and loved ones.
But today it's a different ballgame.
# WhatsApp
WhatsApp is undeniably the number 1 messaging app in the world, with over 2.1 billion active users on a monthly basis as against Facebook Messenger's 1.3 billion users and WeChat's 1.2 billion users monthly respectively.
To Promote affiliate links, WhatsApp is great in enabling you to have contacts with people via your smartphone.
How To Promote Affiliate Links On WhatsApp
Create WhatsApp Groups
Create a group for the affiliate product you wish to promote. Add people who may be interested from other social media platforms or through running WhatsApp ads on Instagram or Facebook.
Then begin to dish out free values till you gain their trust. Then subtly launch the affiliate product to them.
WhatsApp TV
Launch a WhatsApp TV. This is more like saying build more views on your WhatsApp status.
How to do this is to build more contacts on your phone; this means an increase in status views depends on the number of contacts you have saved. So aim at building more contacts.
Utilize Bulk Messaging: This implies you send broadcasts to your contacts. There are great apps responsible for executing this strategy.
The app can extract numbers from different WhatsApp groups save them, and send bulk messages to the contacts. While doing this, you insert your affiliate links in the message so as to direct your potential buyers to the product.
NOTE: When you are extracting numbers from groups, extract only from groups that are closely related to what you are promoting.
For example, don't get contacts from groups that are only interested in updates on politics and sports when you are promoting how to succeed in Affiliate Marketing.
7 Digital Products
Digital products are a great way to promote affiliate links. And one of the best of them is the ebook. Ebook can help you make serious sales if you know how to go about it.
These are the steps to take to properly promote affiliate links;
Write an ebook on a topic closely related to what you are promoting. Something like, "The Premium Strategy To Make Your First $100 In Clickbank Under 24 Hours." If you see such a title on Google SERPs won't you click on it to see what's the strategy? Of course yes! This is how it works! You will create an ebook on the topic with an awesome design. You can do this with Canva or Google Docs; it's very simple to create.
In the pages of the ebook, make sure you insert your affiliate links at every interval.
Make sure you add screenshots of your earnings on your dashboard and withdrawal proofs to boost their urge to take action.
Then use the ebook as a lead magnet to get as many clicks on your product as possible.
As such, you must endeavor to make a boast about the ebook; how powerful it is, and how a missed opportunity it would be if no one reads it so as to discover a goldmine inside the ebook.
RECOMMENDED>> How Bloggers Make Money [Dark Secrets Finally Revealed!]
Lastly, don't make the ebook voluminous, it will bore your users. Make it simple, straight-to-the-point, and compelling, while you strategically place your affiliate links and call on them subtly to join.
4 Ways To Successfully Promote Affiliate Links
1 It's All About Your Audience (Users/Readers)
Don't just publish posts because you want to promote affiliate links. You should put your audience first, and aim at solving the challenges of your readers before telling them to make you money.
Every reader or user that lands on your blog want to find a solution to whatever is their problem, so you splash affiliate links everywhere distorting the interest of your users.
It's dangerous to make your readers feel you are only interested in promoting affiliate products and not their needs, and that can affect your blog traffic.
Because they may begin to lose confidence or trust in your content. I have personally felt very exasperated due to the videos I come across on YouTube, greedy YouTubers only promoting self-interest instead of attending to why I searched a term.
2 Focus On a Niche
It is absurd to be publishing posts promoting fashion industries on a blog designated for personal finance.
If you a running a beauty and fitness niche, promote affiliate links that revolve around building biceps, clearing spots on the face, burning belly fat, and growing thick soft black hair…I mean products that complement the kind of content you publish.
3 Promote More Than Five Affiliate Products
For you to make more money, you have to aim at promoting multiple affiliate products, either from the same affiliate network or from different networks.
As an affiliate marketer, there is absolutely nothing wrong with promoting as many products as possible.
So, if you decide to build a fashion blog, you can create content around bags, makeup kits, jewelry, and designers, then insert your affiliate links from different companies promoting these items.
Conclusion
Going through this post will do you no good if you don't put into practice what you have learned. Most of the strategies given here are the ones we could probably monetize.
And the best way you can appreciate our effort is to share this post with your social media handles to encourage us to put out more content.
Having learned what affiliate links are, ways to promote affiliate links, and becoming successful at it, kindly drop a comment below if you have tried any method, and do well to suggest more methods we could update.
Thank you, guys!
SUGGESTED READS:
Sharing Is Caring!