How To Start Indomie Cooking Business In Nigeria With ₦50k
Start Indomie Cooking Business
Indomie Cooking Business: There are a lot of side businesses Nigerians can take advantage of to make insane gains, and of the many is the Indomie Cooking Business or Noodles Cooking Business.
However, it's obvious that many graduates from the university don't have job security, and it's best they start something that can become phenomenal in the near future or perhaps a brand while waiting for the so-called white-collar job.
Beginning an indomie or noodles food spot is a lucrative business in Nigeria. This food venture can skyrocket your financial life to the height you never imagined in 90 days. The advantages of starting an indomie spot or cafe are that you can operate the business even as a fully-employed individual.
What I mean is that you can sell your instant noodles in the evening when you are back from work, or every weekend. It is the best second-job cooking business.
Indomie noodles' cooking business in Nigeria requires minimal capital and hardware. Hence, it is one of the Businesses You Can Start With ₦50k.
You don't have to recruit laborers to begin the noodles venture. Likewise, you can start right from the comfort of your home and later construct a stand by the roadside.
Suggested Food Menu To Add And Make More Money:
Spaghetti
Boiled Yam & Egg Sauce
White Rice & Stew
Boiled/Fried Ripe Plantain
White Rice & Bean With Stew
Tea & Bread
Bread & Fried Egg
Indomie is a quick noodle that Nigerians consume. Many individuals love the flavor of it when ready by a great chef. You should be aware of the various recipes for getting ready noodles.
Be that as it may, Nigerians allude to all Noodles as indomie in light of the fact that it is more famous.
You can prepare and sell any noodle brand or company that individuals love to munch. Your culinary finesse is an additional benefit to prevail in the noodles cooking business.
Undergraduates from the university who have effective time usage can likewise consider starting this business.
The expense of beginning an indomie noodles business in Nigeria can cost from ₦15,000 to ₦50,000 depending on the way you are launching out. Here, I will show you a step-by-step guide on how to start an indomie cooking business in Nigeria.
How Much Does It Cost To Start Indomie Business In Nigeria?
As I said earlier, it would cost you between ₦15,000 to ₦50,000 to start a profitable noodles business in Nigeria depending on your approach or business plan. Either way with ₦15k you are good to go!
Moreover, you can kickstart right from your kitchen if you don't have the luxury of launching it big. You should also understand that your entire expenses in setting up Indomie Cafe or Spot can exceed your initial budget.
For instance, if you had a budget of ₦50k to start, you may end up spending ₦70k.
That is because food items are on the high side in terms of pricing. The Nigerian economy has made the price of items inflate, including food items.
So, it's advisable you arm yourself with much cash before venturing into any business at the moment in Nigeria, including indomie cooking business.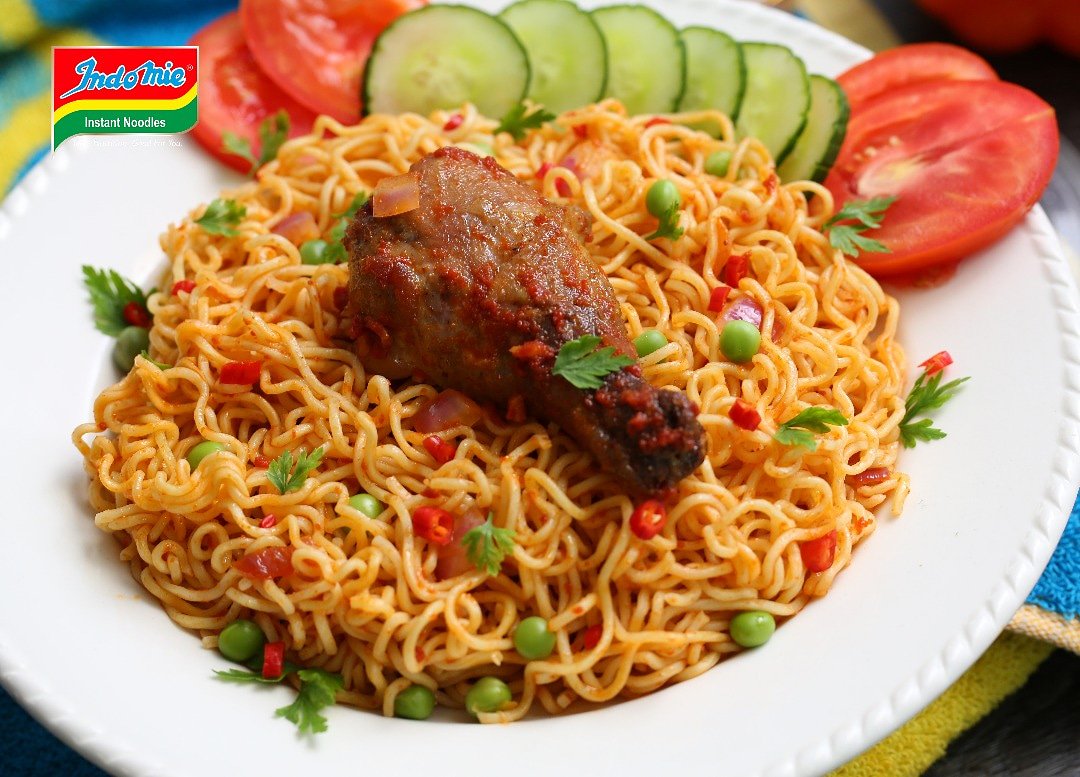 Required Items & Costing In Starting Indomie Noodles Business In Nigeria
For you to launch a profitable indomie business in Nigeria, you need to make available the following items and equipment:
Renting a space (shop or constructing a kiosk) – ₦15,000 to ₦25,000
Gas cylinder with burner – ₦13,000
Carton of noodles
Cooking wares – Non-stick frying pan (₦2,900), knife (₦1,500), chopping board (₦1,000), tablespoon, plate, pot, etc
Food serving utensils – Set of 6pcs Ceramic plates (₦6,000), fork, etc
Disposable food packs (preferably corks – 100 pieces) – ₦6,500
Crates of eggs – ₦1,600 for each crate
Ingredients like spices – Budget around ₦2,500
Veggies (Pepper, tomatoes, onions, scent leaf, curry leaf, etc) – Budget around ₦4,500
1 big plastic table (₦6,500) and 4 plastic chairs (₦6,000 each)
1 5 liters of vegetable oil (₦7,000)
SPECIAL OFFER!!! Gain Access To Our Well Articulated Indomie Noodles Cooking Business Blueprint With 7 Untapped Noodles Recipes as a Bonus, Which Is a Complete Guide To Starting a Profitable Instant Noodles Shop In Nigeria.
Grab Your Copy Below And Thank Me Later!
How To Position Your Indomie Cooking Business Strategically To Make Insane Sales
It is one aspect to start a noodles stand business and another to actually make sales and accrue insane profits in the process. However, the catch is you must know the important things that should be in place in order to position well, and the following will give you a clear insight into the idea:
#1 Indomie Cooking Business Plan
Making a business strategy is the initial step to setting up a little side of road indomie eatery. A Business Plan is a composed document that contains a nitty gritty arrangement for your business. It is an unmistakable diagram of your targets, objectives, and vision for the indomie eatery.
In this plan, you would indicate how you expect to accomplish the targets and benefit objectives in the marketable strategy. Having a business strategy boldly spelled out would act as a rule for your plan of action. It would permit you to know how you can accomplish your objectives.
#2 Business Name That's Remarkable
Getting a snappy business name is fundamental for your Indomie Cooking Business. Find a remarkable name that can resound in the psyche of your clients or customers. An appealing business name makes you stand apart from your rivals and clients. It is a system to drive insane sales.
Likewise, it is important to explore and get an extraordinary business name. Try not to fall into the snare of getting a business name that is normal or famous. Your business name must go in line with your kind of business.
What I'm saying is your business name ought to provide individuals with a thought of what you sell. A label like Yummy Noodles Kitchen gives a thought to a Noodles Café.
In picking a business name, you need to think about expanding your Indomie Cooking Business to a larger scale, probably becoming another big fast-food brand in Nigeria. You would rather not go through the pressure of changing your business when your brand becomes very popular.
Secure your café name with the Nigerian Corporate Affairs Commission. It would give you the influence to participate in all types of expert marking. Understand also that you don't have to enlist your business name prior to beginning your noodles business.
You can however do that sometime in the future. Yet, guarantee that you do that at the earliest opportunity. Likewise, employ a professional graphic designer to make a logo and banner for your business.
#3 Locate a Booming Spot For Your Indomie Cooking Business
Laying out a noodles eatery relies upon the area. The area where you site your noodles business would decide if you would make any sales or not. It is fitting to site your eatery in a student's climate or a spot brimming with youngsters.
Truly the older people don't like to eat indomie. Young people have an appetite for noodles, so they are the ones that will most likely come to eat.
Guarantee that where your business is located is not difficult to find. You wouldn't let individuals get lost attempting to find the spot for your profit. An all-around planned flex would assist with placing you at the center of attention.
#4 Discover & Learn New Recipes For Noodles
It is pertinent to learn new ways of preparing noodles for your customers in an exceptional manner. You need to keep improving your cooking skills if you want customers to rush in and finish your noodles.
Furthermore, knowing how to arrange your items like a professional chef will give you an edge over other eateries around yours. For this purpose, there is a cookbook you would not want to miss at all! It's called 7 Secret Noodles Recipes Cookbook Untapped. Get it and thank me later!
#5 Buy Things In Bulk
If you must succeed generally in business, you must always shop for foodstuffs or items in bulk. Here are a few tips to get you started:
Endeavor to buy things in the market in bulk at an affordable rate that you will be able to realize your profit
Make sure you have the means to keep your vegetables fresh at all times in order to suffer loss to decay
Your ingredients must look fresh every time you want to use them
Write a list of things you want to buy indicating prices for every item and make sure you stick to your budget
Make your diligence to discover a spot in the market where you can buy items at wholesale price
Learn how to bargain till it slightly favors your budget for an item
Lasting, don't just buy anything and leave the market, make it's original!
#6 Be Innovative
Innovativeness is the trademark of each and every blossoming business. The use of innovativeness would make your noodles business sell like crazy.
As you most likely are aware, numerous others are likewise into the indomie food business. Along these lines, convince your clients why they ought to buy from you and not your rivals.
Operating a fruitful eatery isn't tied in with cooking delicious food sources. You figure out how to make your food business durable.
The Manner In Which You Can Accomplish This Is By;
Make a compelling logo for your food business
Keep a perfect cooking climate (that is you must maintain a high level of personal hygiene)
Offer unique rebate
Check on your customers from time to time, especially beeping their phones with text messages for New Year, New Month, Christmas, Birthday facilitations, and more
#7 Package & Deliver Food To Your Clients
Many of your customers will not, at some point, be able to come to your place of business physically to patronize you, but deliveries can be made to show how valuable they are to your brand.
Giving value to your brand is a fundamental part of maintaining an effective food seller business. It includes you learning the perfect execution of the most proficient method to package your food.
A significant number of your clients would have zero desire to eat at your side-of-the-road eatery. They would demand you to package their food.
Figuring out how to package food with the most recent food packs would place you on a higher pedestal than your rivals.
Additionally, adding a food conveyance administration (delivery bikes) would expand your sales rate. Certain individuals are occupied or feel sluggish to come outside to purchase food.
Find a strategy that can permit individuals to arrange noodles from the solace of their homes.
The utilization of online entertainment platforms like Facebook and Instagram permits you to gain access to additional clients.
#8 You & Your Customers
A decent client relationship is a loosely held bit of information for each fruitful business.
Maintaining an adequate and sound connection with your clients is important. It expands the confidence that they have in your Indomie Cooking Business.
You want to foster the client in every right disposition. Figure out how to deal with them like royalties.
A fulfilled client would constantly prescribe your food to their companions. It is the means by which your business will develop to a higher level. Develop a strong relationship with your clients.
I wouldn't want anything more than to hear from you in the comment box beneath. What more can you contribute to this piece?
Thank you for already stopping by to read! Please share this post with your friends on your social media handles.
SUGGESTED READS:
Sharing Is Caring!